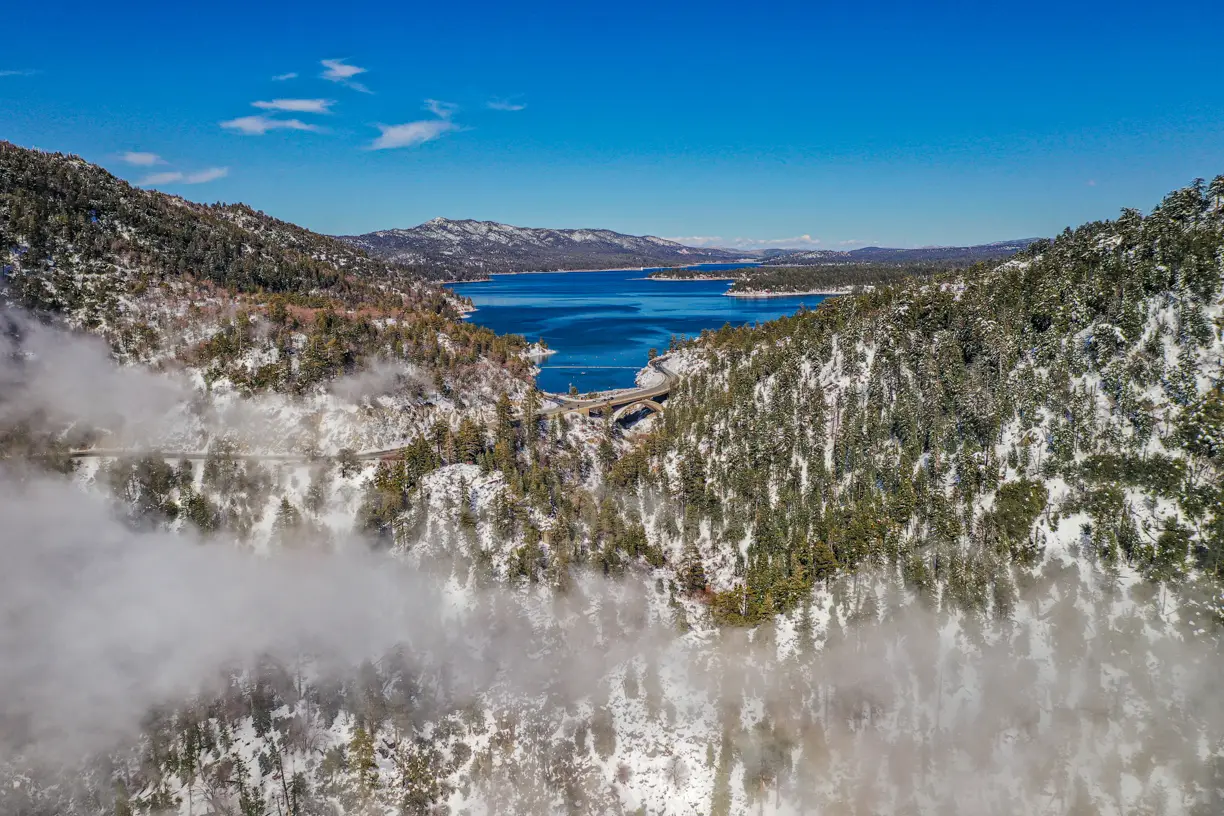 Big Bear
Where Alpine Adventures Meet Mountain Magic
Big Bear
Nestled in the picturesque San Bernardino Mountains of Southern California, Big Bear is a charming alpine destination that attracts visitors year-round. Its scenic beauty, rich history, and abundance of recreational activities make it a popular getaway for nature enthusiasts, adventure seekers, and families alike.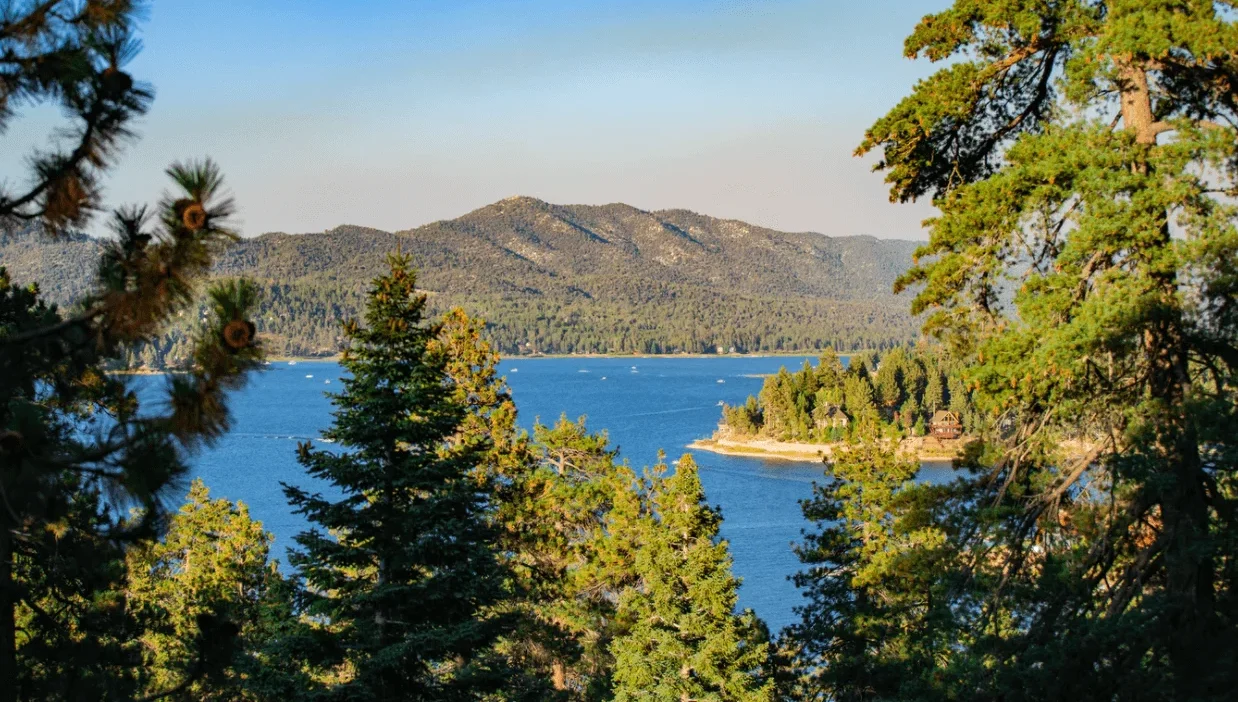 Big Bear History: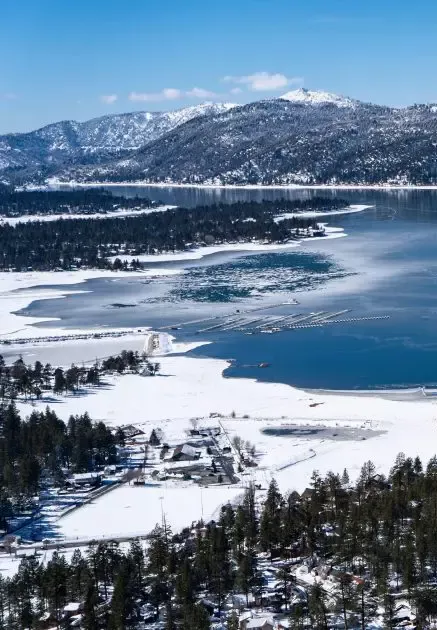 Originally inhabited by the indigenous Serrano people, the area now known as Big Bear Valley has a storied history. The discovery of gold in the mid-1800s brought prospectors to the region, but it was the timber industry that eventually thrived, providing resources for the growing state of California. Over the years, Big Bear evolved from a rugged wilderness into a beloved vacation spot and ski resort, while still retaining its rustic mountain charm.
Things to Do in Big Bear:
Skiing and Snowboarding
In the winter months, Big Bear becomes a winter wonderland, offering excellent skiing and snowboarding opportunities at popular resorts like Snow Summit and Bear Mountain. Both resorts boast a range of slopes suitable for all skill levels, from beginners to advanced riders. Ski schools and equipment rentals are available for those new to the sport, ensuring everyone can enjoy the thrill of gliding down the slopes.
Hiking and Mountain Biking
During the warmer seasons, explore the numerous hiking trails and mountain biking routes, allowing visitors to immerse themselves in the breathtaking scenery. Trails vary in difficulty and length, catering to casual strollers and avid hikers alike. For mountain biking enthusiasts, the Snow Summit Bike Park offers adrenaline-pumping downhill trails.
Boating and Fishing
Big Bear Lake provides ample opportunities for water-based activities, including boating, fishing, kayaking, and stand-up paddleboarding. Rent a pontoon boat or a kayak to explore the vast lake, fish for rainbow trout, bass, or catfish, or simply relax on the water while taking in the stunning mountain vistas.
Ziplining and Adventure Parks
Experience the thrill of ziplining and adventure parks, where you can challenge yourself with aerial obstacle courses and treetop adventures. These parks offer fun and excitement for visitors of all ages, making them ideal for family outings or team-building activities.
Animal Sanctuary
Don't miss the Big Bear Alpine Zoo, dedicated to rehabilitating and preserving native wildlife, including bears, bobcats, and eagles. The zoo not only educates visitors about the local fauna but also plays a vital role in the conservation and rehabilitation of injured or orphaned animals.
Off-Roading
Explore the rugged backcountry with off-road vehicles and enjoy scenic trails in the surrounding mountains. Experienced guides and rentals are available for those new to off-roading, making it an adventure accessible to all skill levels.
Big Bear Jeep Experience
For those seeking a unique way to explore the rugged terrain and enjoy panoramic views of Big Bear, the Big Bear Jeep Experience offers guided off-road tours. Climb aboard a sturdy Jeep and venture into the wilderness with experienced guides, discovering hidden trails and capturing unforgettable vistas of the surrounding landscapes. It's an adventure that combines exploration and exhilaration in one remarkable package.
Water Sports
Engage in jet skiing, wakeboarding, or tubing for a fun and exciting day on the lake. Big Bear Lake's clear waters and mountainous backdrop create a perfect setting for water sports enthusiasts seeking a thrilling experience.
Snowshoeing
Discover the beauty of the snow-covered landscape while snowshoeing through the forest trails. This winter activity allows visitors to explore the area's serene winter wonderland at a leisurely pace.
Horseback Riding
Enjoy guided horseback rides with stunning views of the mountains and lake. Horseback riding is an excellent way to connect with nature and experience the tranquility of the surrounding wilderness.
Golfing
Tee off at the Bear Mountain Golf Course, a challenging course set amidst the beauty of the mountains. Golfers can appreciate the fresh mountain air and picturesque surroundings while playing a round of golf on this scenic course.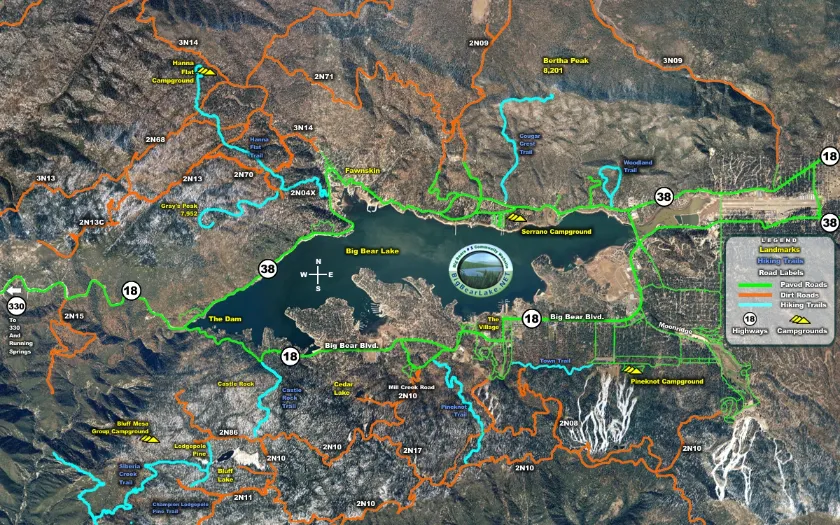 Where to Go in Big Bear:
Big Bear Lake
The heart of the region, offering water activities, lakeside picnics, and beautiful sunsets. Spend a day on the sandy beaches, swim in the refreshing waters, or have a lakeside barbecue with family and friends.
Big Bear Discovery Center
Learn about the area's natural history, wildlife, and conservation efforts at this educational center. The Discovery Center offers interactive exhibits, guided nature walks, and informative programs for all ages.
Baldwin Lake Stables
Enjoy horseback riding through scenic trails with experienced guides. The stables cater to riders of all levels, ensuring a safe and enjoyable experience for everyone.
Juniper Point
A popular spot for fishing and enjoying panoramic views of the lake and surrounding mountains. It's an ideal location to catch a glimpse of the stunning sunsets that Big Bear is known for.
Alpine Slide at Magic Mountain
A family-fun park featuring an Alpine Slide, water slides, and go-karts. Experience the thrill of racing down the Alpine Slide, cool off on the water slides, and enjoy the excitement of go-kart racing.
Castle Rock Trail
Hike to the top of Castle Rock for breathtaking views of the lake and valley. The moderately challenging hike rewards visitors with unforgettable vistas and photo opportunities.
Snow Summit Scenic Sky Chair
Take a scenic chairlift ride to the top of Snow Summit for stunning vistas and hiking opportunities. The chairlift operates during the summer months, providing access to a network of hiking trails and scenic viewpoints.
Gold Mountain Trail
An exhilarating off-road trail for 4×4 enthusiasts, providing sweeping views of the valley. This adventurous route offers a thrilling experience and a chance to explore remote areas of the mountains.
Grout Bay Picnic Area
A serene spot for picnics, birdwatching, and paddleboarding. This secluded area is perfect for a relaxing afternoon amid nature's tranquility.
Big Bear Solar Observatory
A unique opportunity to learn about solar science and observe the sun through telescopes. Astronomy enthusiasts can join guided tours and explore the fascinating world of solar research.
Big Bear Mountain Resort
As a premier alpine destination, Big Bear Mountain Resort is a hub for outdoor activities year-round. In the winter, skiers and snowboarders flock to its well-maintained slopes, featuring diverse terrain suitable for different skill levels. The resort's modern amenities, including lifts and rental services, ensure a seamless and enjoyable experience on the slopes.
Where to Eat in Big Bear:
The Pines Lakefront
Delight in lakeside dining with a diverse menu offering steak, seafood, and vegetarian options. The restaurant's elegant ambiance and expansive views of the lake make it a favorite for romantic dinners and special occasions.
Peppercorn Grille
A cozy restaurant serving European-inspired cuisine, including delectable pastas and grilled meats. Diners can enjoy a warm and intimate setting, perfect for unwinding after a day of outdoor activities.
Teddy Bear Restaurant
A local favorite for breakfast and brunch, known for its hearty portions and friendly ambiance. This family-run establishment serves up classic American breakfast dishes, making it an excellent spot to start your day.
Get the Burger
Enjoy delicious gourmet burgers and milkshakes in a casual setting. This burger joint offers a variety of juicy burgers made with fresh ingredients and creative toppings, sure to satisfy any burger lover.
Himalayan Restaurant
Experience authentic Nepalese and Indian flavors, including vegetarian and vegan dishes. The restaurant's vibrant and aromatic dishes are perfect for those seeking an exotic culinary adventure.
Saucy Mama's Pizzeria
Savor mouthwatering pizzas, calzones, and salads with a wide selection of toppings. Whether you prefer classic pepperoni or gourmet combinations, Saucy Mama's has a pizza to please every palate.
Captains Anchorage
A historic steak and seafood restaurant, renowned for its scenic lake views and friendly service. This long-standing establishment offers a timeless dining experience with a menu that celebrates the best of surf and turf.
Dynasty
Indulge in Chinese cuisine, including popular favorites like Orange Chicken and Kung Pao Shrimp. The restaurant's diverse menu ensures that everyone in your group can find something they love.
Evergreen Restaurant
A family-friendly spot offering American classics and homemade desserts. From burgers and sandwiches to comfort food favorites, Evergreen Restaurant caters to a wide range of tastes.
El Jacalito Grill
Taste authentic Mexican dishes, including tacos, enchiladas, and refreshing margaritas. The restaurant's vibrant atmosphere and flavorful dishes bring the spirit of Mexico to Big Bear.
Where to Shop in Big Bear:
The Village
Explore this charming alpine-style shopping district, featuring boutiques, art galleries, and souvenir shops. Stroll through The Village's cobblestone streets, shop for unique gifts, and enjoy a cup of coffee or ice cream at one of the quaint cafes.
Big Bear Farmers Market
Open on certain days, the market offers fresh produce, artisanal products, and handmade crafts. Support local vendors and discover fresh fruits, vegetables, honey, and a variety of specialty items.
Interiors
Browse home decor and rustic furnishings inspired by the mountain lifestyle. From cozy cabin decor to stylish mountain chic, Interiors offers a range of items to add a touch of Big Bear to your home.
Copper Q
A culinary shop with cooking supplies, gourmet foods, and cooking classes. Culinary enthusiasts will find an array of kitchen gadgets, high-quality cookware, and specialty foods to elevate their cooking experience.
Blauers Board Shop
Find a wide selection of snowboards, ski equipment, and outdoor apparel. Whether you're a seasoned snowboarder or a beginner hitting the slopes, Blauers Board Shop offers expert advice and top-notch equipment.
Goldsmith's Sports
A one-stop-shop for ski and snowboard rentals, winter clothing, and accessories. Prepare for your mountain adventures with high-quality gear and clothing available for purchase or rent.
Conclusion
Big Bear, California, is a captivating destination that blends history, natural beauty, and recreational opportunities. Whether you're seeking outdoor adventures, a relaxing lakeside retreat, or a taste of mountain culture, Big Bear has something to offer every visitor. Embrace the serene atmosphere, indulge in the local cuisine, and create unforgettable memories amidst the majesty of the San Bernardino Mountains. With an array of activities, scenic spots, and delightful dining and shopping options, Big Bear promises an enriching and unforgettable experience for all who visit. From skiing down powdery slopes to hiking through ancient forests, from dining with a view of the lake to exploring unique shops in the village, Big Bear's diverse offerings ensure that every day in this mountain paradise is filled with adventure and enjoyment.