Lake Arrowhead Vacation Rentals
Nestled amidst the majestic splendor of the San Bernardino Mountains, Lake Arrowhead welcomes you to explore the allure of this quaint mountain town. Here, the crisp, invigorating mountain air wraps around Lake Arrowhead, creating a haven for outdoor enthusiasts and nature lovers alike. Whether you're seeking adventure at Skypark, tranquility by Lake Gregory, thrilling ski slopes, or a leisurely boat tour on the pristine waters, Lake Arrowhead promises an enchanting escape in every season.
Cabin Rentals Near Lake Arrowhead
Experience the charm and the thrill of adventure. Your Lake Arrowhead escape begins here.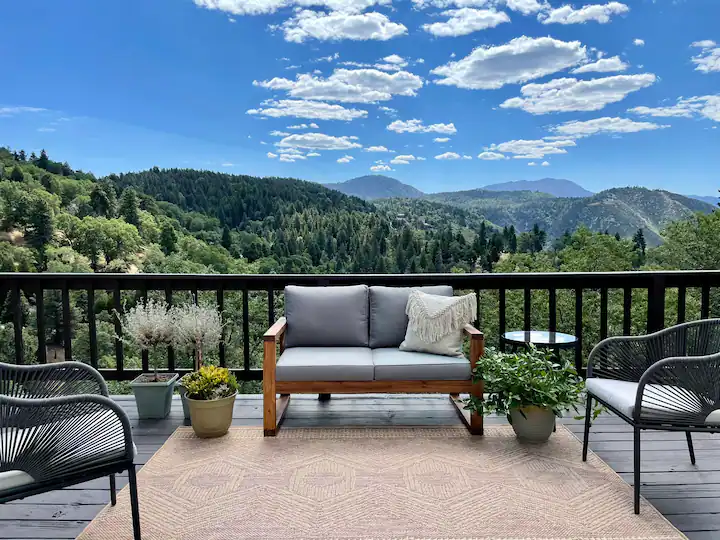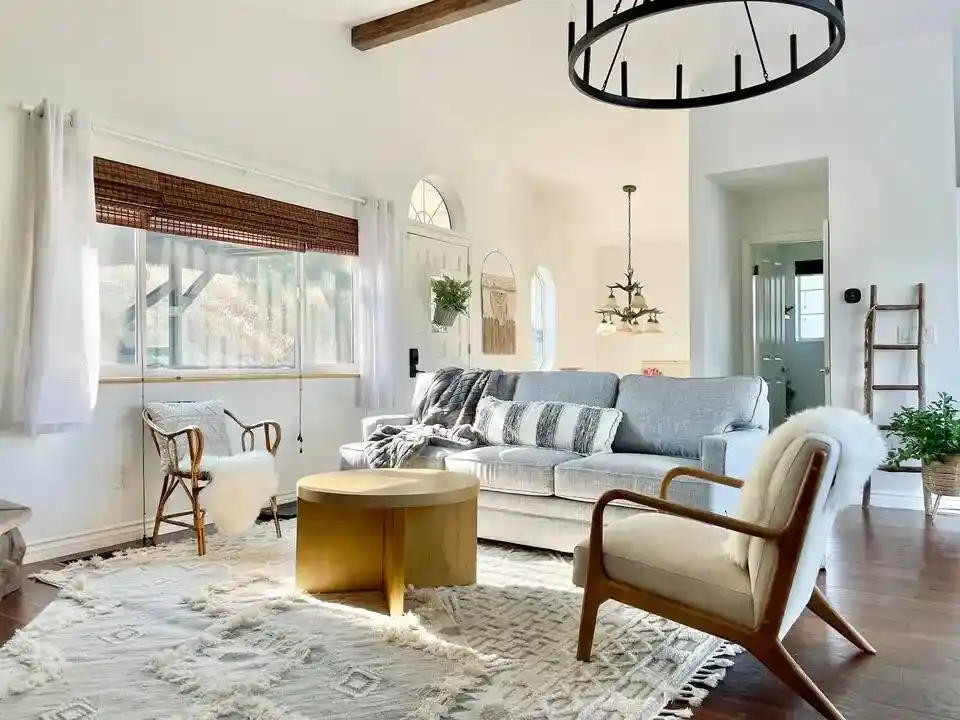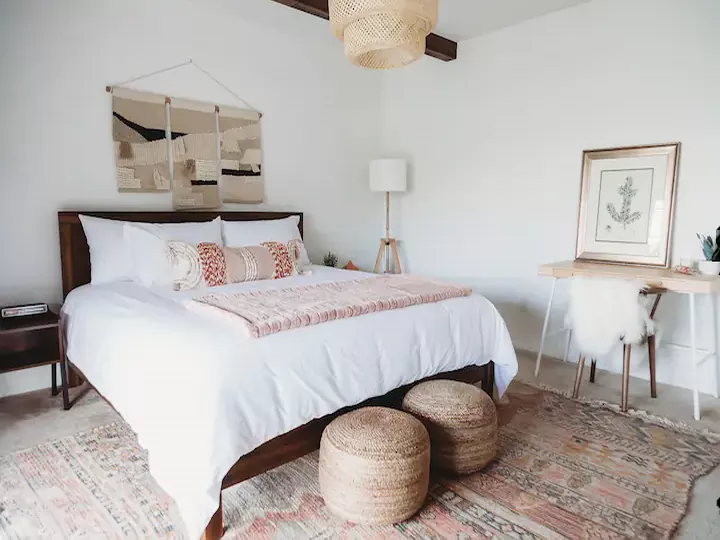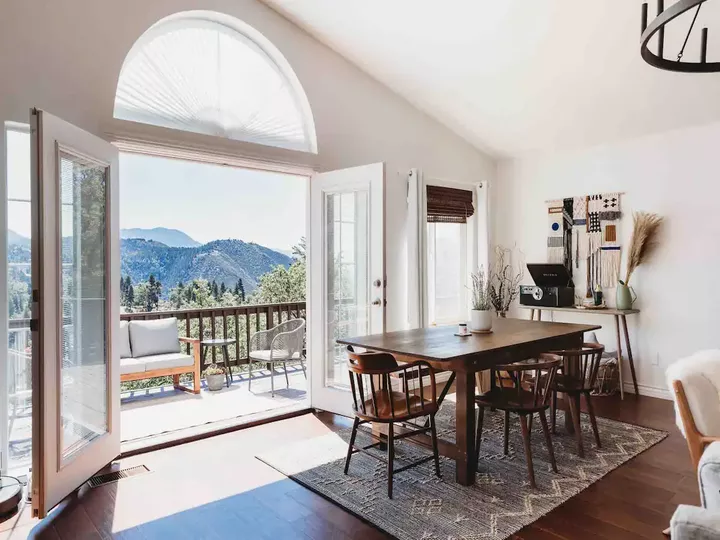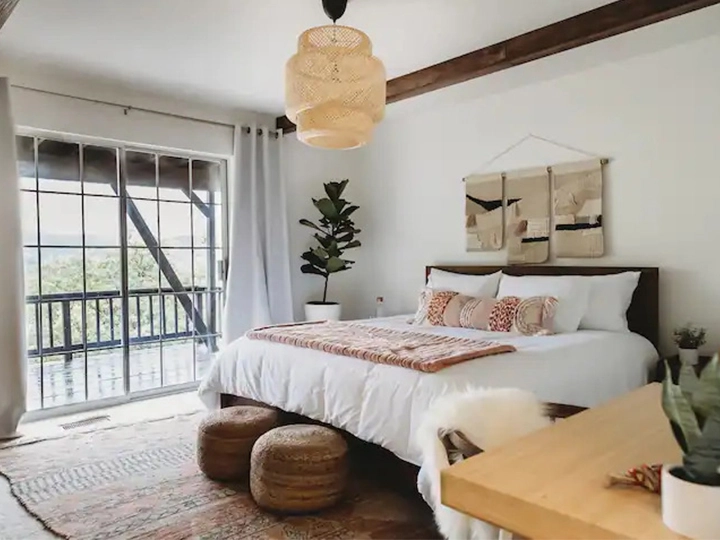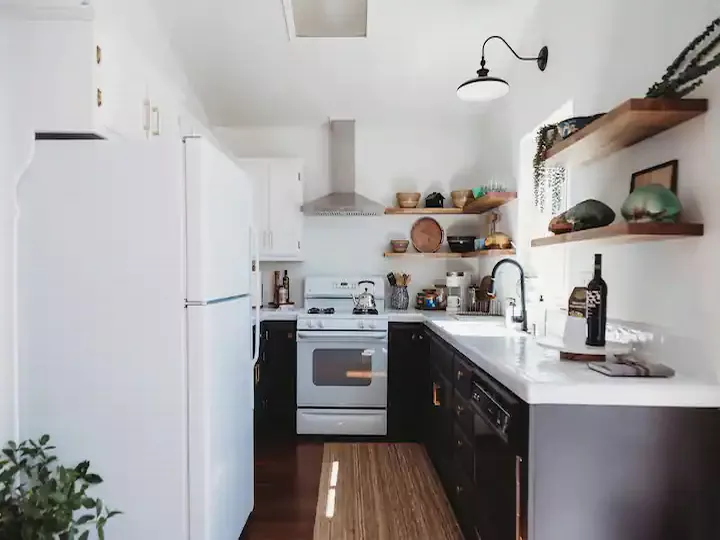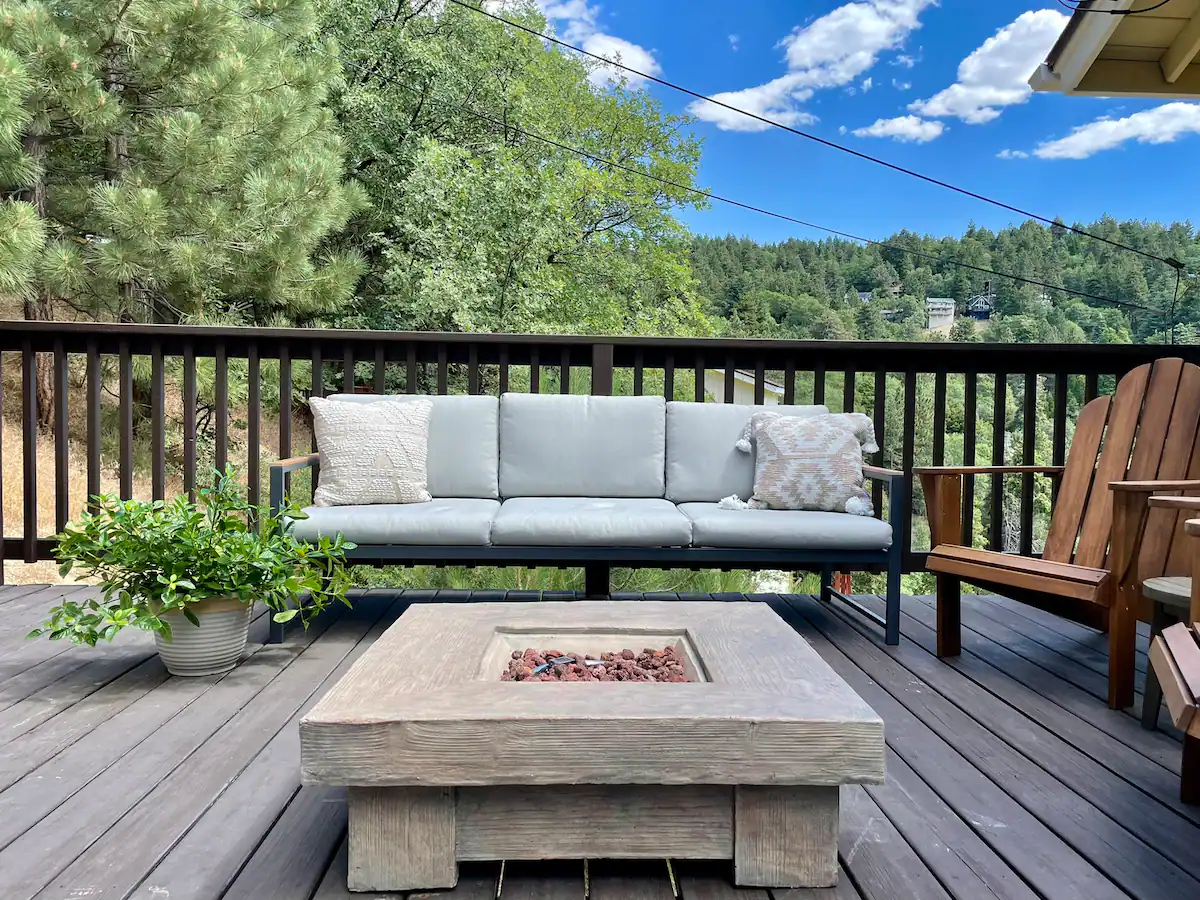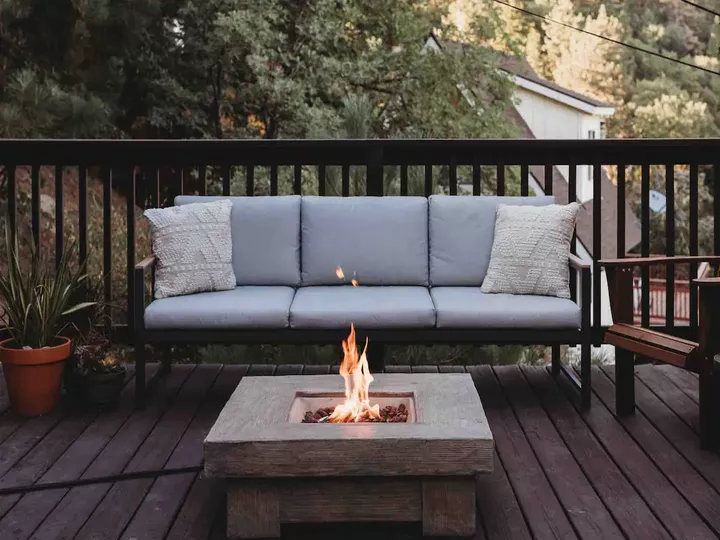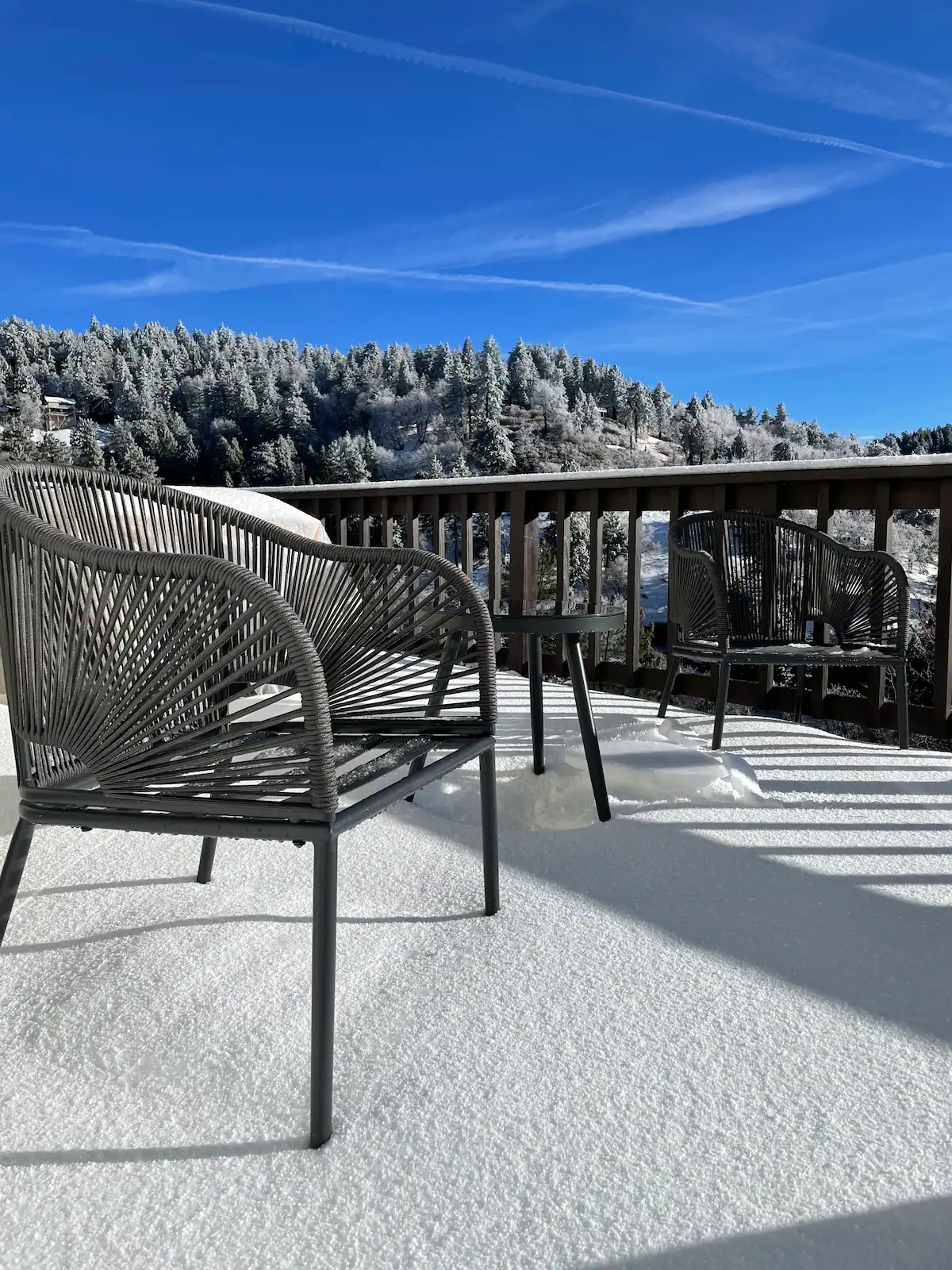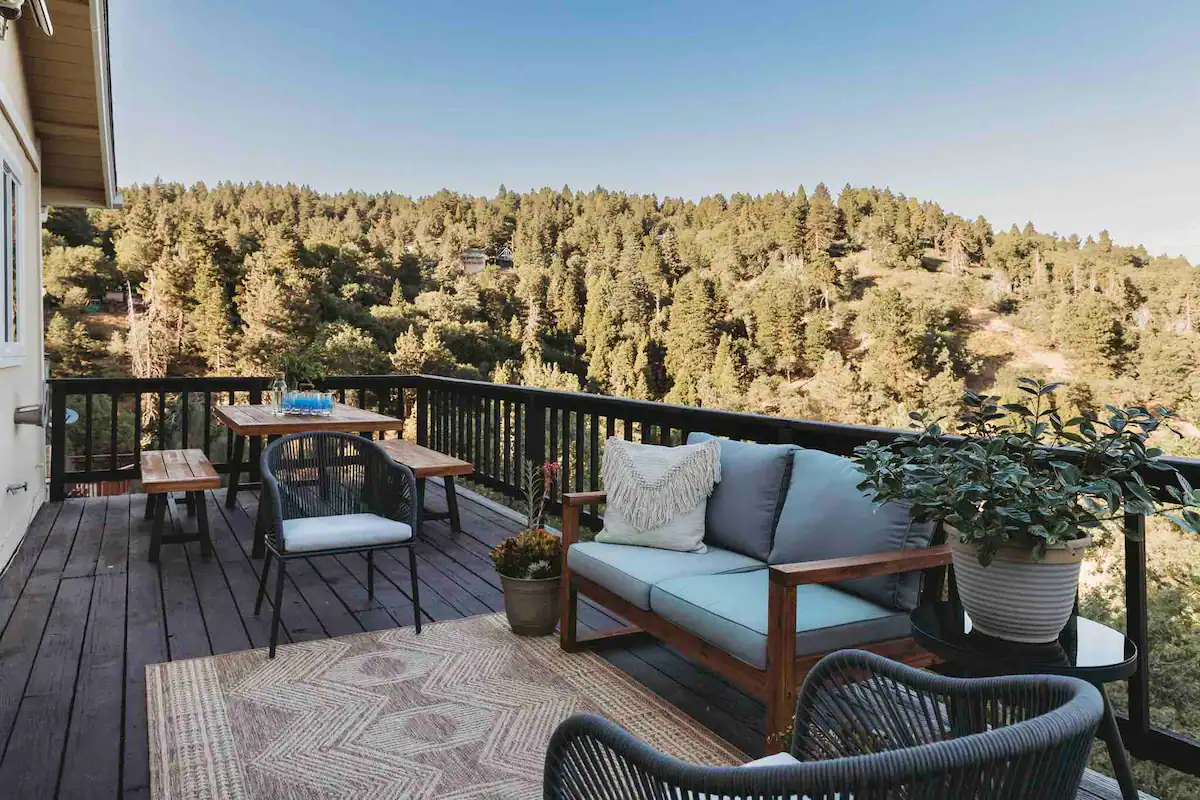 5 guests | 2 bedrooms | 4 beds | 1.5 baths
Rent entire cabin for $155 per night (starting price)
Our mountain home is situated high overlooking majestic mountain ranges. The moment you walk into the Olive Family Cabin, you'll be greeted by a breathtaking view through french doors. The cabin is stylishly designed with a blend of prairie rustic and modern bohemian decor. Upon arriving, enjoy a cocktail as you listen to classic vinyl records on the Victrola record player.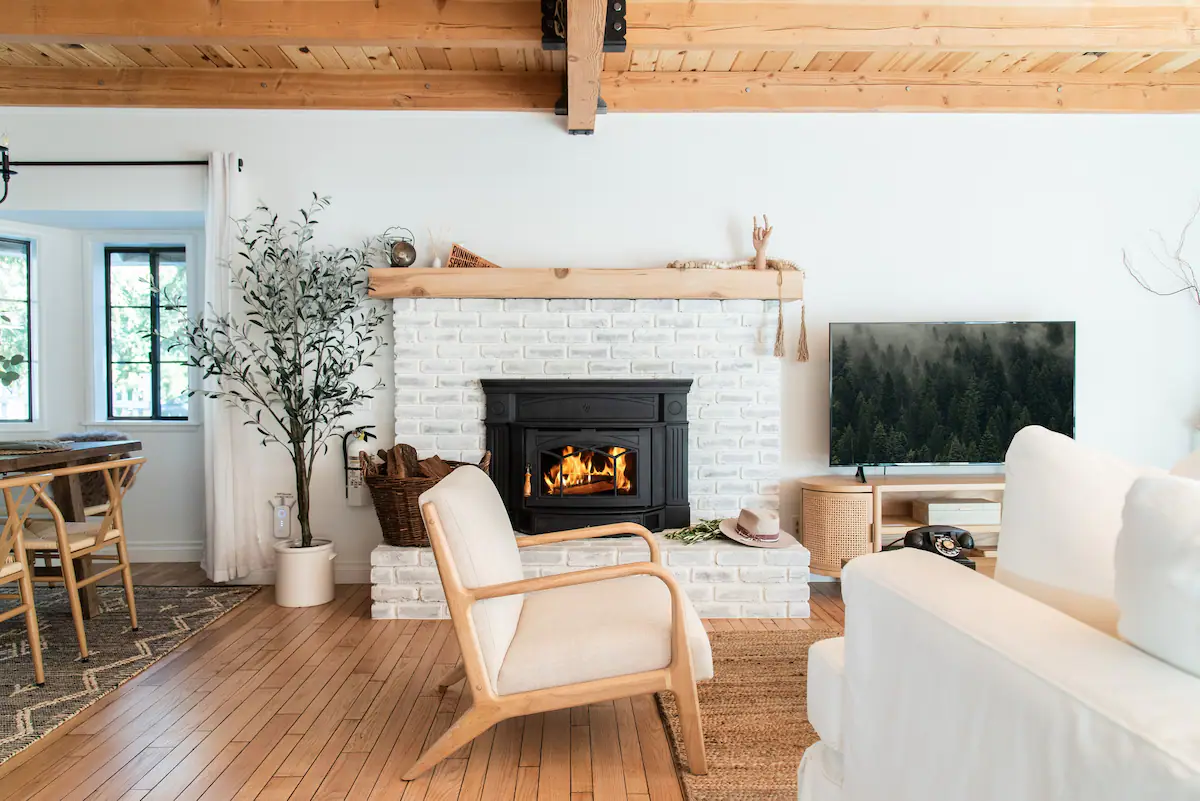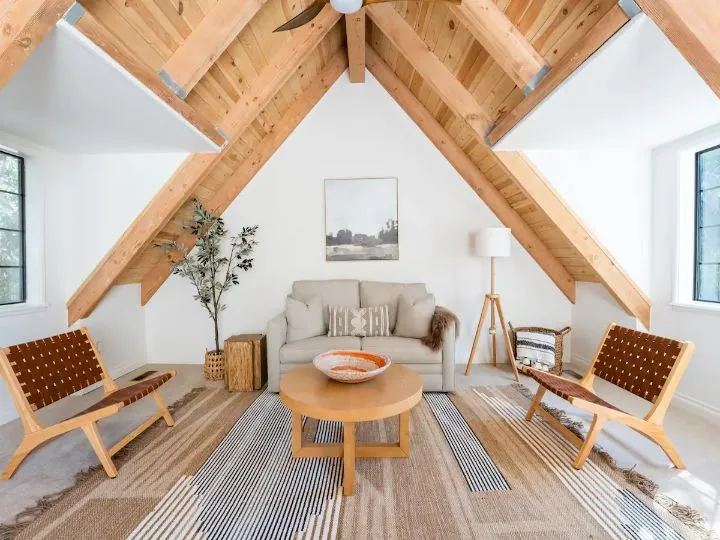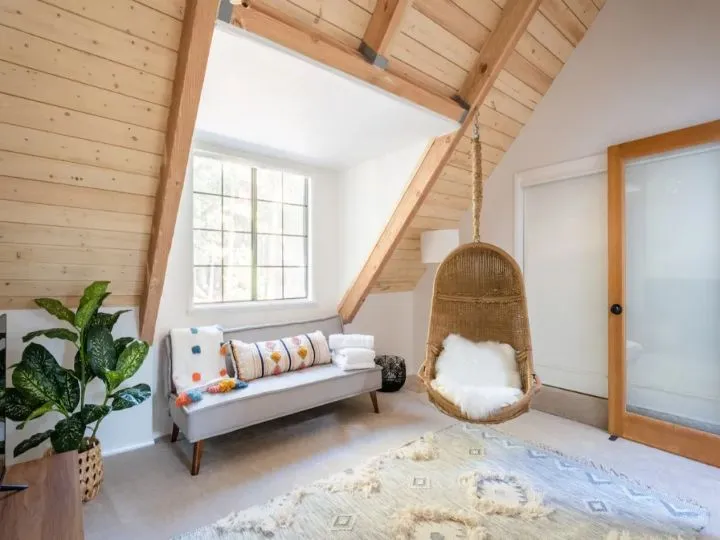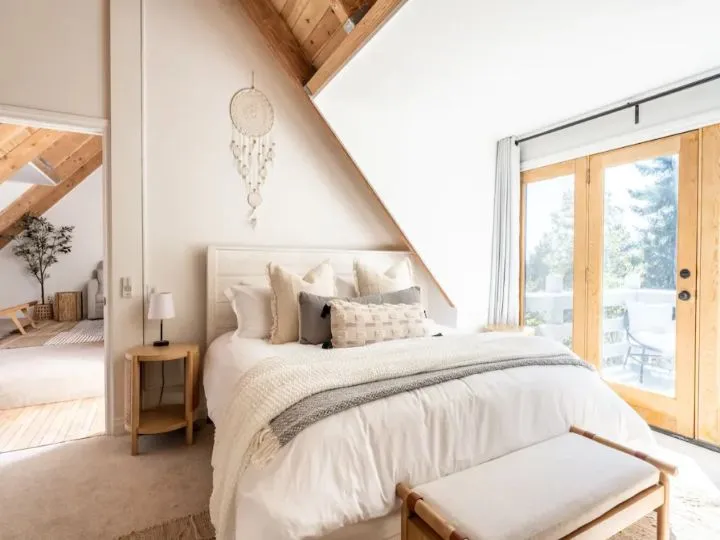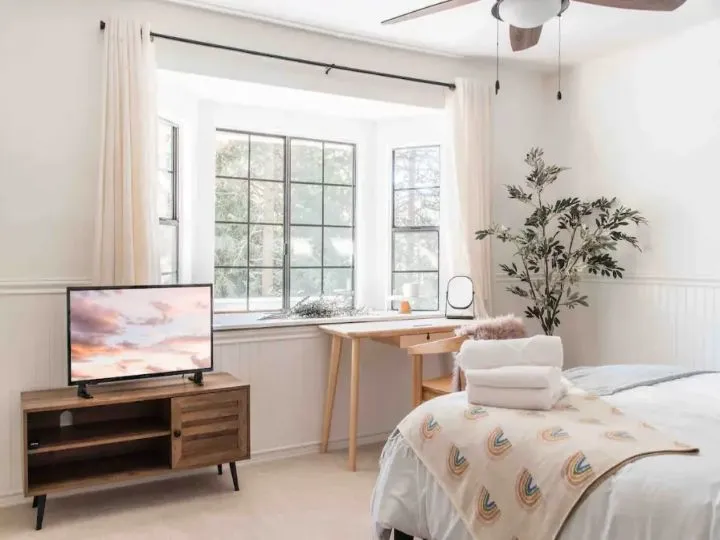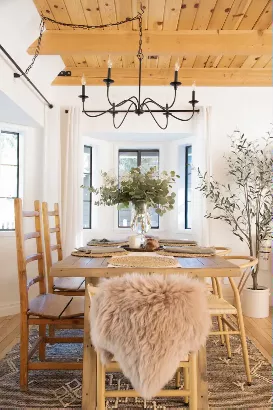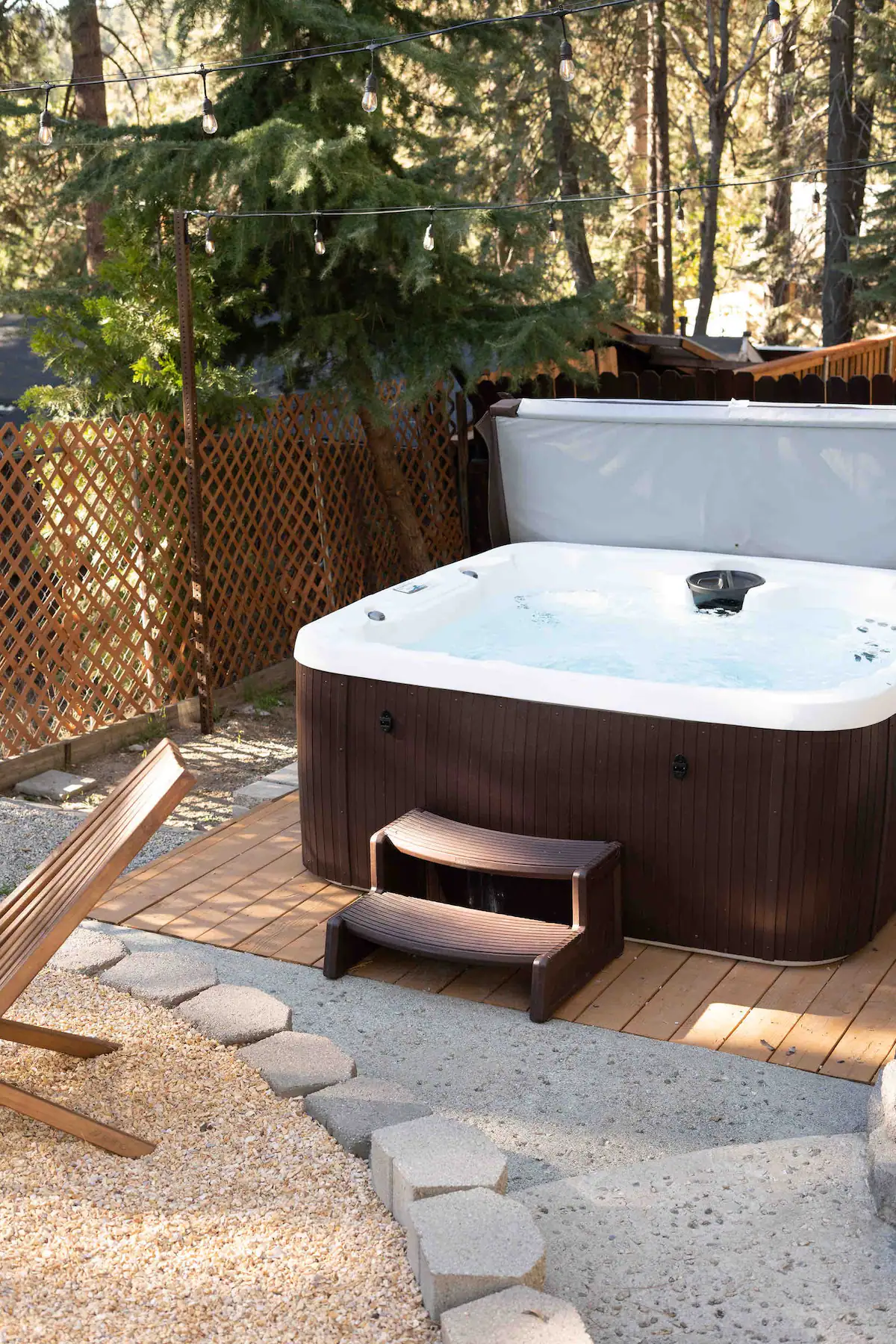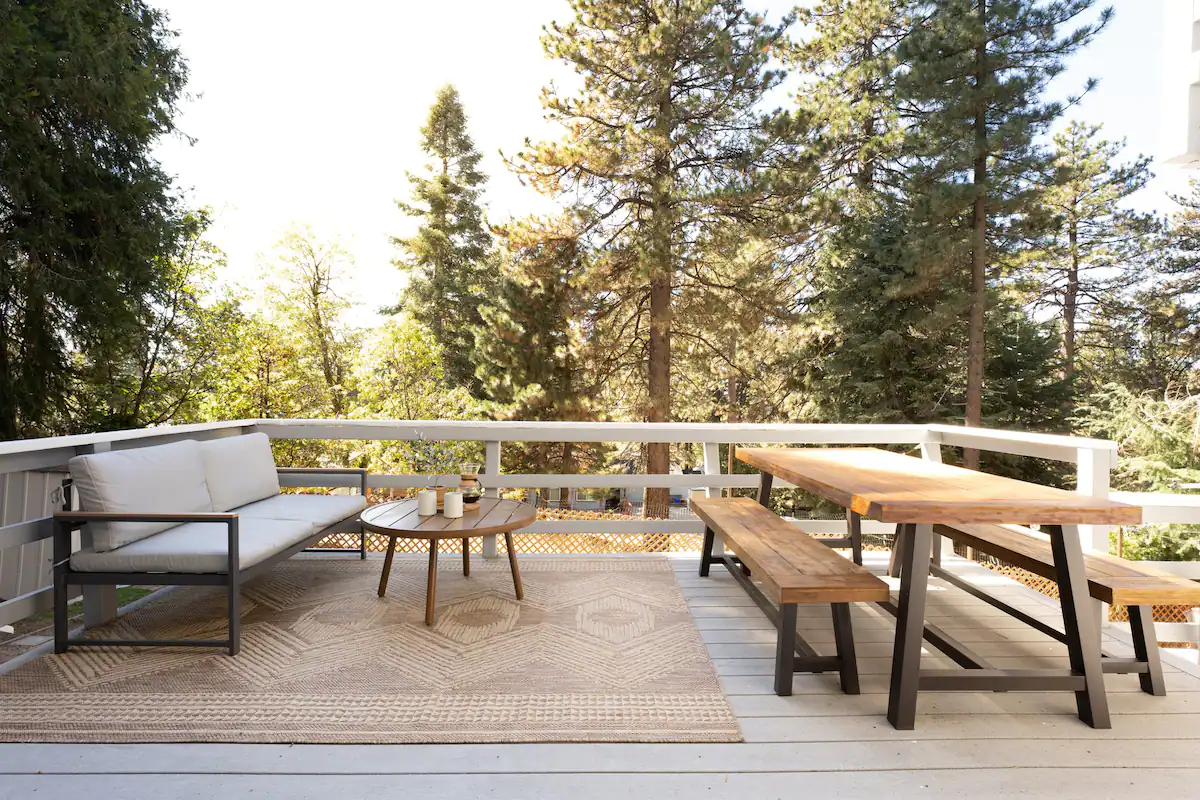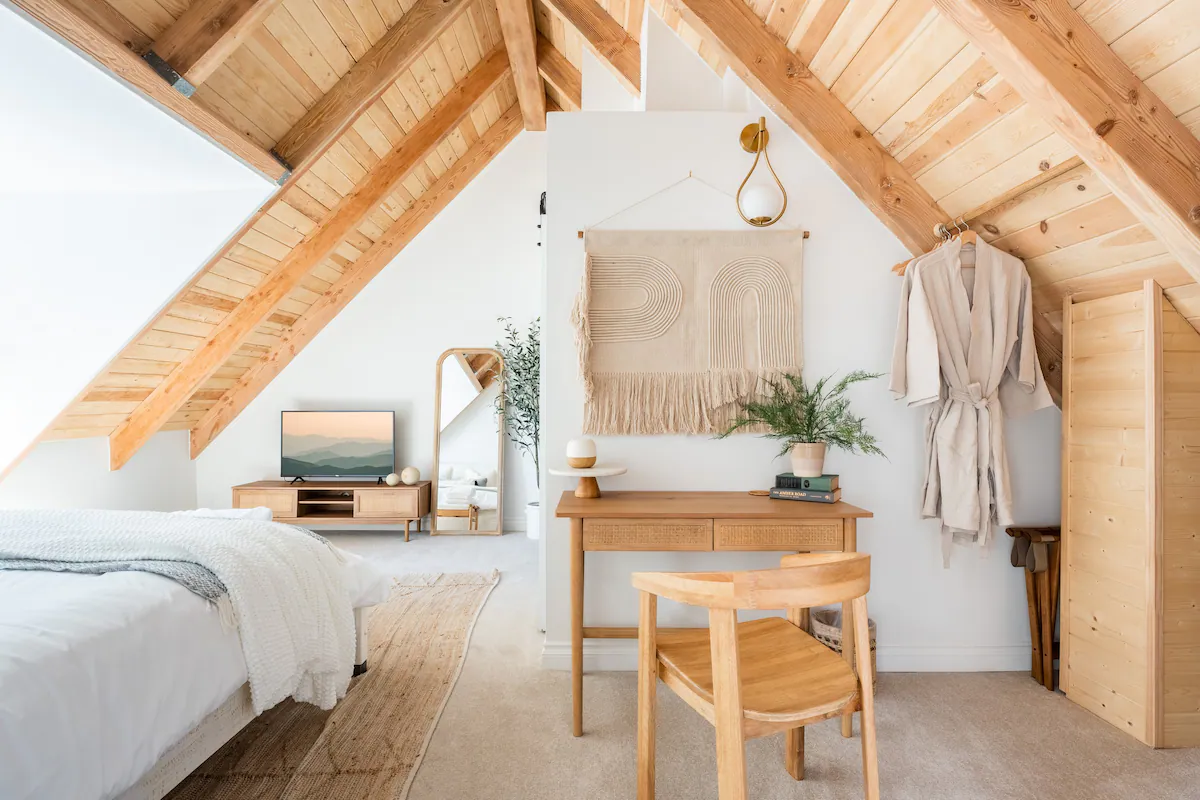 7 guests | 3 bedrooms | 5 beds | 2 baths
Rent entire cabin for $155 per night (starting price)
Uniquely "grandma chic" designed and lovingly curated with heirloom antiques, once you enter, you immediately feel transported to a special mountain cabin experience. Step out on the main deck and breathe in the mountain air while enjoying a glass of wine. Enjoy meaningful fireside chats around the fire pit. Or simply stay in and wrap yourself around any of our cozy throw blankets while listening to records from our curated jazz collection.
Popular Amenities
Near Lake Arrowhead's Top Attractions
Our cabins are just a few minutes drive to Lake Arrowhead's top destinations.
SkyPark at Santa's Village
McKenzie Water Ski School
Lake Arrowhead Queen Tour
Lake Gregory Regional Park
Lake Arrowhead
A short guide for the best vacation.
About Lake Arrowhead
Lake Arrowhead, nestled in the San Bernardino Mountains of Southern California, is a charming mountain town renowned for its picturesque beauty and serene atmosphere. This idyllic destination offers a perfect retreat from the hustle and bustle of city life, with opportunities for outdoor adventures, relaxation, and exploration. Whether you're seeking fresh mountain air, exciting activities like skiing or a tranquil boat tour on the lake's crystal-clear waters, Lake Arrowhead provides a delightful escape in any season.
About Lake Arrowhead Village
Lake Arrowhead Village
Lake Arrowhead Village is the beating heart of this enchanting mountain retreat. This charming alpine village, set against the backdrop of the stunning San Bernardino Mountains, offers a unique blend of shopping, dining, and entertainment, all while capturing the essence of lakeside living. Stroll along picturesque cobblestone paths, explore boutique shops brimming with artisanal treasures, and savor delectable cuisine at waterfront restaurants. With a beautiful lakeside promenade, it's the perfect place for a leisurely evening walk, where the tranquil ambiance is complemented by the soothing sounds of a water feature that meanders through the village. Regular events and concerts add a vibrant touch to the village, making it a hub of community activity and a must-visit destination for anyone looking to immerse themselves in the charm of Lake Arrowhead. Whether you're shopping for unique souvenirs, indulging in a lakeside meal, or simply enjoying the serene atmosphere, Lake Arrowhead Village offers a delightful experience for all who visit.
Best Time to Rent a Cabin in Lake Arrowhead
Lake Arrowhead in Summer and Winter
The best time to rent a cabin in Lake Arrowhead depends on your preferences and what you seek in this mountain paradise. If you're a fan of warm, sunny weather and outdoor activities like hiking, boating, and fishing, the spring and summer months, from May through August, are ideal. During this period, the lake glistens under the sun, and the lush forest surrounding the area is in full bloom. It's a fantastic time for family vacations and enjoying the numerous water-based activities.
On the other hand, if you're drawn to the magic of a winter wonderland, Lake Arrowhead becomes a snowy paradise from December to March. This is the prime season for skiing and snowboarding enthusiasts, with nearby resorts offering pristine slopes and snowy adventures. The charming village takes on a cozy, festive atmosphere, making it a great time for a romantic getaway or a holiday retreat.
For those who prefer milder temperatures and fewer crowds, the shoulder seasons of fall (September to November) and early spring (April) offer a peaceful retreat. The forest transforms into a kaleidoscope of autumn colors in the fall, making it a photographer's dream, while the early spring brings blooming wildflowers and a sense of renewal to the region.
Ultimately, the best time to rent a cabin in Lake Arrowhead is a matter of personal preference, whether you're seeking outdoor adventures, relaxation, or a mix of both. Each season brings its own unique charm to this mountain paradise, making it a year-round destination for all types of travelers.
Things to Do in Lake Arrowhead
Lake Arrowhead Boat Tour
Embarking on a Lake Arrowhead Queen boat tour is like stepping into a storybook scene brought to life. These guided excursions offer a captivating journey through the pristine waters of Lake Arrowhead, surrounded by the lush greenery of the San Bernardino Mountains. Whether you opt for a romantic sunset cruise aboard the Lake Arrowhead Queen, a family-friendly adventure, or a historical tour, you'll be treated to breathtaking views and fascinating insights into the area's rich history and natural beauty. As you glide across the crystal-clear lake, you'll have the opportunity to spot local wildlife, including bald eagles and deer, while the knowledgeable guides regale you with tales of the lake's origin and its significance to the region. Lake Arrowhead Queen boat tours are a tranquil and immersive way to experience the magic of this alpine oasis, making them an essential part of any visit to this picturesque destination.
Skypark at Santa's Village
Skypark at Santa's Village is a whimsical and enchanting destination nestled in the heart of the San Bernardino Mountains. This magical alpine park brings the spirit of Christmas to life year-round, offering a plethora of activities and attractions for visitors of all ages. From ice skating and cycling through the forested trails to meeting Santa Claus himself, Skypark immerses you in a festive wonderland. Wander through charming cottages adorned with twinkling lights, savor seasonal treats, and shop for unique holiday gifts. For those seeking adventure, there are opportunities for archery, ziplining, and hiking in the scenic surroundings. Whether you're reliving the holiday spirit or enjoying the mountain's beauty in every season, Skypark at Santa's Village promises a memorable experience filled with joy and merriment. It's a place where the magic of Christmas lives on, no matter the time of year.
Skiing
Lake Arrowhead offers a unique combination of both skiing on the water and gliding down snow-covered slopes, making it a four-season paradise for outdoor enthusiasts. During the sunny summer months, water skiing and wakeboarding on the pristine Lake Arrowhead are popular activities. The calm, glassy waters provide an excellent setting for riders of all levels to enjoy thrilling water sports, and local marinas offer equipment rentals and expert instruction.
As the winter snow blankets the San Bernardino Mountains, Lake Arrowhead transforms into a snowy wonderland, attracting snow skiing and snowboarding enthusiasts to nearby resorts like Snow Valley and Snow Summit. These resorts offer well-groomed slopes, terrain parks, and opportunities for all skill levels. With fresh powder and breathtaking mountain views, it's a haven for winter sports enthusiasts seeking the thrill of downhill adventures.
So, whether you prefer to carve through the waves on a water ski or carve turns in the snow on a pair of skis or a snowboard, Lake Arrowhead caters to your passion for skiing in all its forms, ensuring year-round excitement for visitors seeking alpine adventure.
Frequently Asked Questions
Free cancellation if check-in is less than 14 days away.
Also, you can cancel within 24 hours of booking as long as it's at least 14 days before check-in time.
They are in Running Springs, which is very close to Lake Arrowhead. It takes 15 minutes from our cabins to get to the heart of Lake Arrowhead.
We have a minimum of 2 nights and a maximum of 7 nights.
Only after we review your initial booking request message. You can cancel within 24 hours of booking, as long as the check-in date isn't less than 14 days.
Yes. After your booking is accepted, we ask that you authorize a fully refundable security deposit (very similar to a hotel). It's not an actual payment, but a hold. If there's no damage found after checkout, the charge is reversed and the funds are released.
When driving up the mountain to Running Springs, we suggest taking the 330 to Lake Arrowhead rather than California State Route 18 to Crestline, though both options will provide stunning views of the surrounding mountains and valleys of the San Bernardino National Forest.
Big Bear is approximately 20 miles from Lake Arrowhead.
We love SkyPark at Santa's Village (and not only because they offer 10% off to guests who book with us!), Lake Gregory, and much more. Check out our guidebook for additional ideas.
You can take the Lake Arrowhead Queen Tour Boat for a fun and historical ride that includes wonderful lake views, or the McKenzie's WaterSki School for some exhilarating wakeboarding.